What is a 24 hour comic?
It's a challenge: one cartoonist tries to create a full 24 page comic, normally months of work, in 24 straight hours.more info
What is 24 Hour Comics Day?
It's an international celebration of comics creation. Cartoonists all over take the challenge of trying to create a 24 page comic story in 24 straight hours. Many gather at special events in comic book shops, schools, and other locations.

All contents copyright
About Comics offers several anthologies of 24 hour comics:
---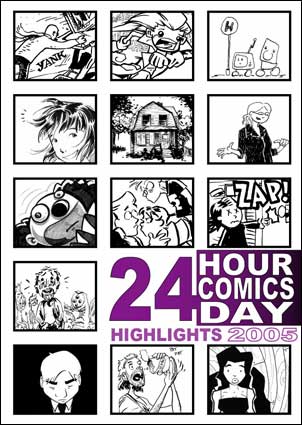 COVER NOT FINAL

Here comes 24 Hour Comics Day Highlights 2005, showcasing 24 interesting stories chosen from the hundreds created on the second 24 Hour Comics Day, a big, thick, spider-womper of a volume packed with energetic, improvisational comics.

But dang, there is gonna be some fine stuff in this book...
Svetlana Chmakova, the creative force behind TokyoPop's upcoming Dramacon, spins a fine fantasy tale (created at Gemini Jetpack)
Chris Fason offers up a story of western horror (created at Kingdom Comics)
Lionel Ruland creates a little story... a very little story (created at Bad Moo)
Jens Schmitz's story starts with a man and a television standing at a bus stop... (created at the German Renate site)
Mark Englert deals with a man, a dog, and an apocalypse (created at Golden Apple)
Jett Atwood shows us a fun time at a puzzle party (created at Night Flight Comics)
Gibson Twist has a short tale of reflecting on the past (created at Strange Adventures)
Erin Mehlos spins "Squinker", a tale of a skate rat and a real rat (created at home in Wisconsin)
Shana Manion brings the advice column "Ask Miss Anthropy" (created at the Comic Alliance event)
Stephanie Weiler reveals a slice-of-life tale (created at Austin Books)
Gynn Stella translates one cat's spiritual statement (created at home)
Stan Yan puts on his dancin' shoes (created at Clockwork Comics)
Margreet de Heer chronicles her 24 Hour Comics Day (created - in part - at Lambiek in the Netherlands)
Lea Hernandez, known for such works as Cathedral Child and Rumble Girls, tells a very personal tale of her life (created at Austin Books)
Kevin Cannon delves into adventure on the high seas (created at the Cartoon Conspiracy event)
Quillan Roe brings a walk to the page (created at the Cartoon Conspiracy event)
T. Motley critiques Neil Gaiman's 24 hour comic via the comics form (created at Clockwork Comics)
Zander Cannon, known for his work on Top Ten and The Replacement God, has an unusual take on the private eye (created at the Cartoon Conspiracy event)
Denise McCabe reflects on mothering a teen (created at Acme Comics)
Enrique Martinez bares his soul (created at True Believers)
Faith Hicks lays down a silent fable (created at home, Prince Edward Island)
Ben Avery, writer on such comics as ArmorQuest, The Oz/Wonderland Chronicles, and The Imaginaries, draws out a classic western (created at Buy Me Toys.com)
Fiona Staples knows that no good deed goes unpunished, and shows it in her story (created at Comic-Kazi)
Lison Bernet tells tales from the kitchen (created at the Dijon, France event)
One interesting note: most of the selections were created by females. The traditional view of cartooning as a male-dominated interest is certainly being challenged by this new generation.
24 Hour Comics Day Highlights 2005 (ISBN 0-9753958-6-6) is a 496 page 5.5"x7.75" paperback published by About Comics. It reached comic book stores in October, 2005. Suggested retail price is $24.95. The print run is under 1500 copies, so get one while you can!
Finding 24 Hour Comics books: Your best bet is to go to one of the comic book stores that hosted 24 Hour Comics Day events, as they're most likely to have them in stock. If you don't have one nearby, try the Comic Shop Locator Service. While many stores won't have them in stock, a good comic shop should be able to order any of these books for you.
You can also obtain these books through online retailers such as Amazon.com - but if you can, support your local comic book store instead. Comic books have thrived creatively largely due to the existence of specialty stores.